Skip's Sport Shop sells Old Town Kayaks, along with Ocean Kayaks and have a full line in stock along with all the accessories to go with your Kayak.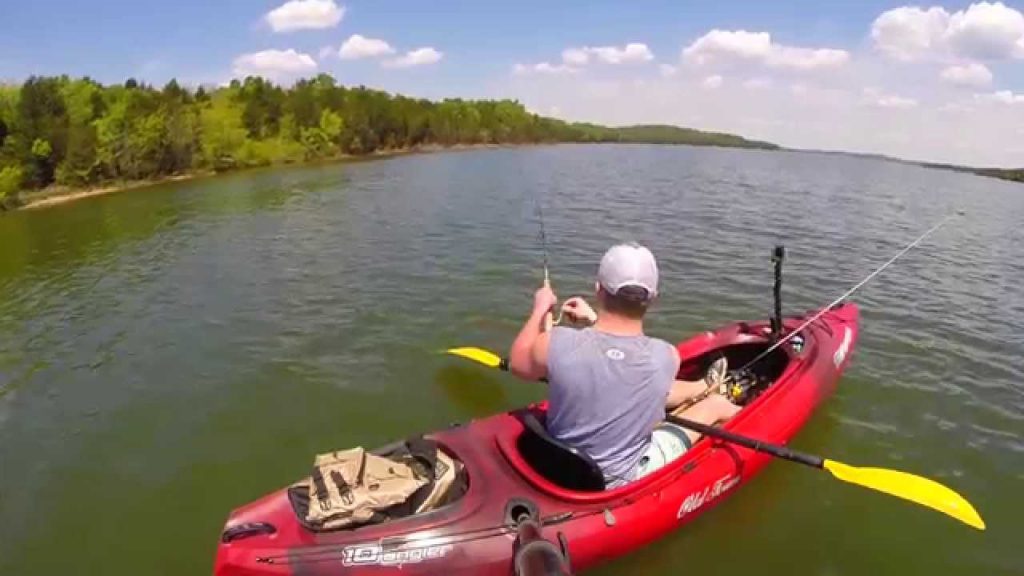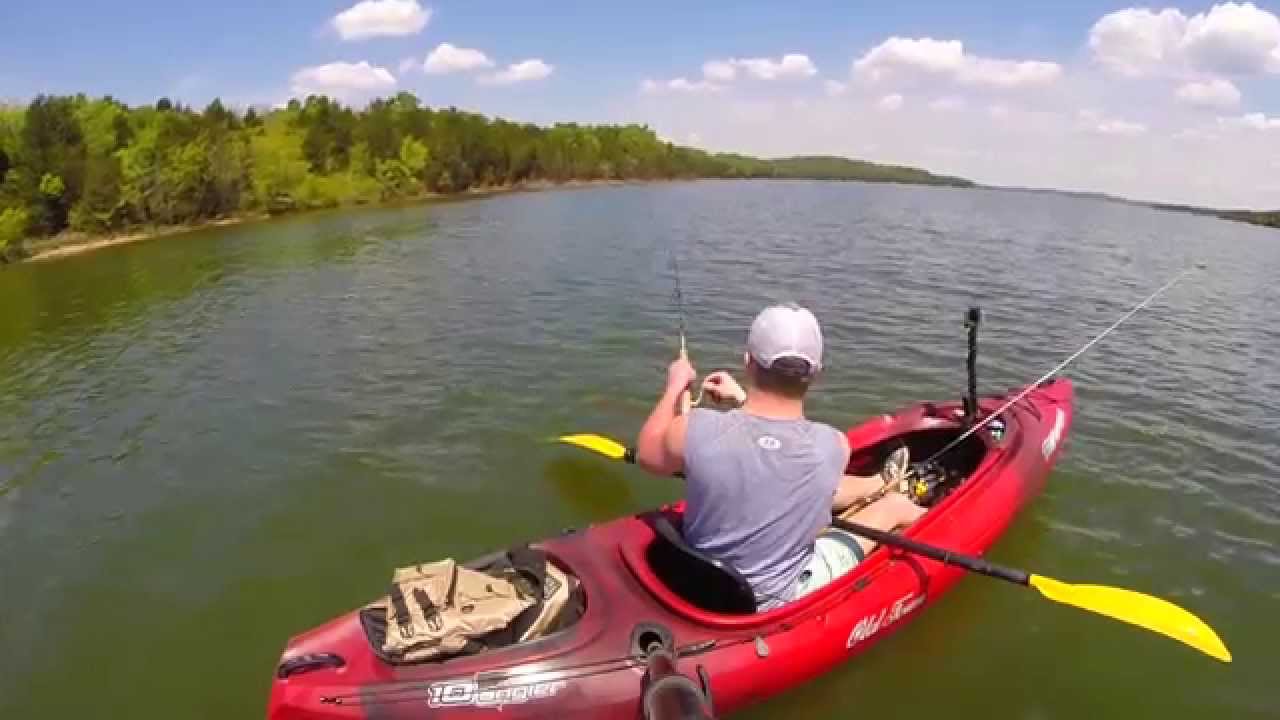 Choosing a Kayak
Once you've determined these parameters, you can choose the kayak design that will fit your needs most of the time.Choosing a kayak is similar to choosing a canoe. Both move through the water powered by a paddle and both are used for similar activities. But there are several differences. To begin with, in a kayak you are using a double-bladed paddle, allowing for easier correction and extra speed. And you are sitting much closer to the water, which gives you better stability and allows for a narrower, lighter craft. As with canoes, it is important to remember that no single kayak can do everything. So choosing the right one for you means first coming up with an honest idea of how you intend to use your kayak.
What types of kayaking activities will you participate in most of the time?
Will you paddle mostly on calm lakes and ponds, in waves and whitewater?
Will you seek lazy days fishing and exploring wilderness rivers, or the thrill of competition?
Will you paddle alone or with family and friends?
How much money do you want to spend?
We've organized our line of kayaks into five distinct categories to help you decide which is best for you:
Sit-on-top kayaks have an open deck rather than an enclosed one. They are designed for the recreational paddler and are very easy to exit and enter. Paddlers with large body types, long legs, or limited flexibility may feel less confined paddling a sit-on-top.
Most of our kayaks are sit inside kayaks meaning you sit inside a closed cockpit. That said, many of our sit inside designs have larger cockpit opening so even though you are sitting inside the boat, you may not feel as confined as traditional longer kayaks.


User-friendly kayaks for those who just want to get out on the water. Recreational kayaks are stable and easy to maneuver, making them ideal for quiet water paddling on lakes, ponds and class I rivers. These versatile kayaks offer great stability. Large open cockpits permit easy entry and exit, and allow you to stretch your legs as well as stow your gear. Recreation kayaks are a great choice for sportsmen, or simply an enjoyable way to get the family on the water.
"The Twister is designed for the ultimate in convenience and utility," said Sara Knies, Old Town Canoes & Kayaks Marketing Director. "An outfitter favorite, the Twister's hull is designed to take a beating while the cockpit fits most body types comfortably. Just grab a paddle and your PFD and the no-nonsense Twister is ready for the water and just about anything you can throw at it."
New Loon Series
Introducing the world's most advanced recreational kayak. 20 years ago Old Town canoe changed the way paddlesports thought about recreational kayaks with the Loon Series. Now, meet the next generation.
Ocean Kayaks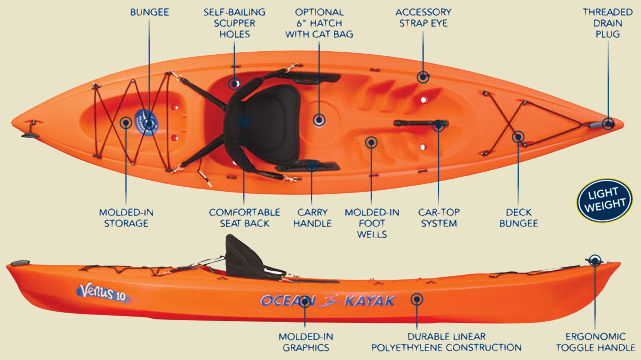 Skip's carry the tetra 10 & 12, caper, venus 11, and mysta ocean kayaks.
Why a sit-on-top kayak?
Fiberglass, paddle floats, navigation maps, self-rescue…you'd like to enjoy the water in a kayak, but perhaps you aren't feeling ready for the investment of time and money it takes to get into the sport. There are lots of alternatives out there for new and recreational paddlers, one of which is a sit-on-top kayak.
Sit-on-top kayaks have similar hull shapes to their traditional counterparts, but instead of sitting inside the kayak, you sit on a molded-in depression on top. Some are fiberglass, but most are made from tough, inexpensive, rotationally molded plastic. Sit-on-top kayaks share many benefits with traditional sit-insides, but often are easier to use and less expensive. There are sit-on-top kayaks designed for fishing, surfing, touring, scuba diving and more. Some of these are considered specialty boats, but most sit-on-tops are built for multi-purposes and with recreational or beginning paddlers in mind.
Sit-on-top kayaks have a few advantages over sit-insides, one of which is comfort. Paddlers with large body types, long legs, or limited flexibility may feel less confined paddling a sit-on-top. One of the biggest benefits is the ability to do a self-rescue. Because sit-on-tops have an open deck rather than an enclosed one, there is less risk of being trapped in the boat if it tips over. With a sit-on-top kayak there is no need to practice Eskimo rolls or wet exits. That really appeals to new paddlers, and people who don't plan to take their kayaks out on expeditions.
Sit-on-tops are fun and a great way to enjoy kayaking….so, grab a paddle and sit on an Ocean Kayak.
The Caper is a compact sea kayak. Stable and easy to maneuver, this kayak comes complete with a performance hull and storage options rare for boats this size. Suitable for most body types with a roomy cockpit and an impressive weight capacity. Don't let the size fool you – the Caper delivers big fun. Throw it in the back of your pickup and head to your favorite fishing or paddling spot.

Designed by women (and one cool guy in touch with his feminine side), the Venus 11 is the slightly bigger sister of our popular and petite Venus 10 for women paddlers with a medium to large build. Still super lightweight for easy car-topping, the Venus 11 is built for fun with a slightly wider seat positioned to help the boat respond to a woman's center of gravity. It's stable and suited for flat water, moderate ocean swells and waves or slow-moving rivers. The comfy Venus 11 comes with a unique grab handle system for easy car-topping. Now you can load up and head to the water without help!